Modern Kitchen Cabinets
Let's talk modern kitchen cabinets. In our family the kitchen is the central part of our home, the place people linger to grab a snack or sit at the bar to finish homework. It needs to be functional yet pretty. Inviting yet stylish. Your kitchen cabinets will set the style, tone and feeling you give this central part of your house.  I don't think you can never go wrong with classic traditional cabinets but my heart will always have space for modern kitchen cabinets. The clean, sleek look gets me every time. We had a cabinet guy up at our new house last night and it had me thinking of what I'd have in my dream kitchen. Besides having lots of cabinets that I can organize the crap out of, I found some really cool inspirational pictures that do modern kitchen cabinets perfectly. Here's what I'm thinking.
Color
White. I adore bright white space but lets not get too carried away. I could show you countless all white kitchens that look fabulous but if I am going to live in a space, I need a little color to warm it up. I love my doctor, but I don't want to live at his office. Okay, that was lame but you get the point. Let's start with stark white walls and warm it up a bit with some browns and warm grays. We are thinking of doing white upper cabinets by the stove/hood and a modern brown on the island on the refrigerator's wall. I'm obsessed with these brown colors and the modern horizontal grain in them that contrast the bright white.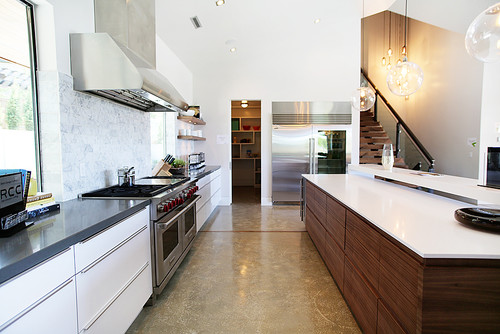 Cabinet Styles
Nothing says modern kitchen cabinets like horizontal lines. We saw it in the wood grain, but let's add another horizontal in the way we hang our cabinets. I like the idea of switching up the directions and doing some cabinets horizontal and some vertical. The longer pulls accentuate this horizontal cabinet style too. And please, let's not overlook having a couple glass doors. You can't see exactly what's in these ones, which is nice, but it gives the cabinets an ultra cool feeling.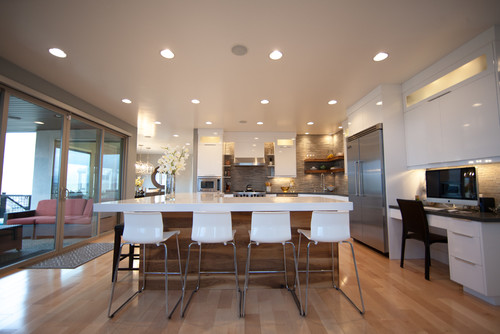 Shelving
We will have an entire wall of cabinets with nothing else on that wall except a fridge at the very beginning, so I had to get some ideas of how we can break the cabinets up without losing on storage. Ideally, I'd love to have no upper cabinets but practicality takes over. I think my dream kitchen would have so much storage, I'd finally have a spot for all my cake stands. The best solution I've found is having open backsplash up to open shelving with some fee floating cabinets above for storage. That would give an open shelving feeling so I could display some of my cute plates but still looks clean and modern. What would you do?
Desk
I always have papers and bills that need a home and somehow always end up on the kitchen counter. I love the idea of a desk in the kitchen to hide the paper clutter. These desks integrate into the cabinets seamlessly without standing out as an eyesore. It's like a hidden gem.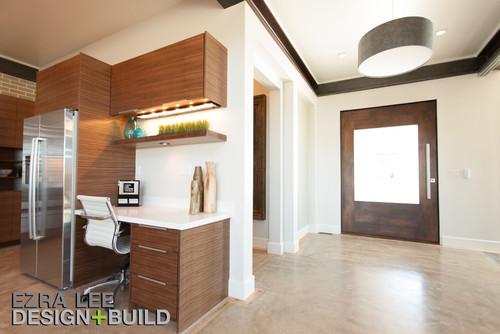 Other Ideas for Modern Kitchen Cabinets
Doors and Hardware
A perfect modern kitchen has a flat paneled door and sleek hardware, in my opinion. Nothing fancy or curvy, just straight lines do the trick.
Lights
I love it under the upper cabinets and it's a cute surprise in the silverware drawer.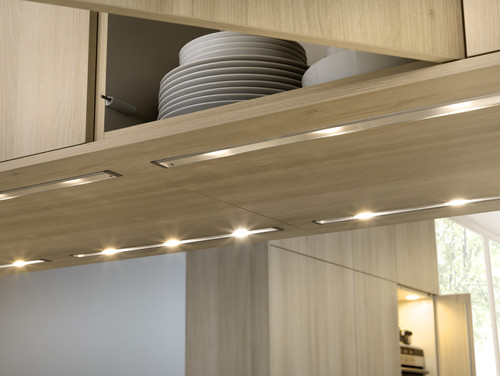 Toe Kicks
I adore these white cabinets with a wood toe kick.
Organization
Pull out drawers, garbage can drawers, utensil separators and this drawer inside a drawer idea is genius. My favorite storage find so far though is keeping your dishes inside a drawer instead of a cabinet. This would be brilliant with little ones around.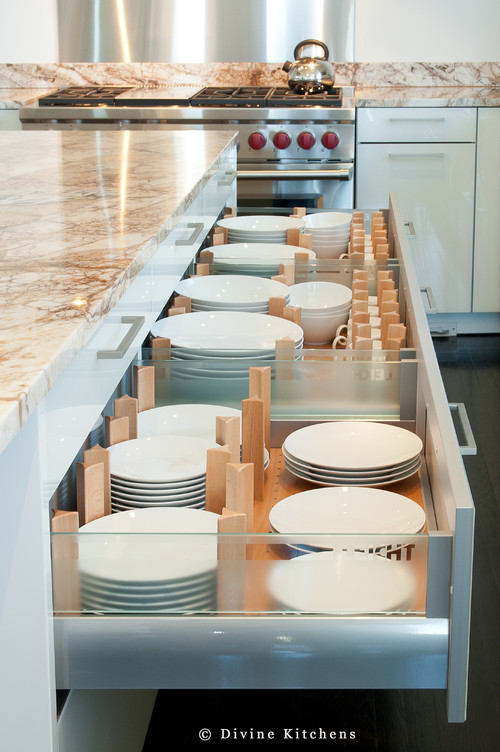 What do you think? What elements would you include when designing your modern kitchen cabinets?