5 Cement Fireplace Ideas
Hello industrial! Cement almost does the same thing to me as raw steel, it gets my heart a pumpin' and I adore it. It's modern and masculine and exactly what I like. (I know I'm a girl and I shouldn't love masculine design like I do, but it's so edgy). The large cement blocks really set the focal point in a room and the hard cool surface really demands attention. I like this because it makes it easy to balance out the masculine cement by adding in warm soft textures in the finishing touches like the blankets and rugs. Because we'll have a pretty warm and modern kitchen, wood with white, I think it's safe to take a little risk on our fireplace. We have a two story great room, so the fireplace reaching almost 21 feet high and 6 feet wide could be quite the focal piece if we do it right. Here are some of my favorite looks of modern/industrial cement fireplaces that I've found. We'll incorporate a few of them in our own design. Wish us luck.
1. Cement Fireplace Ideas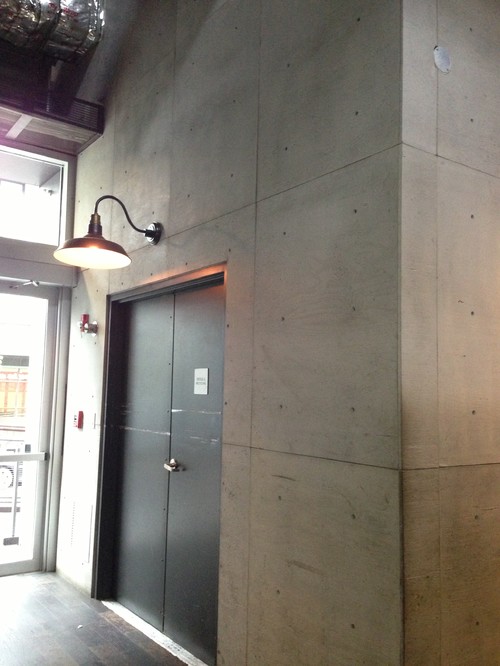 by
Houston Interior Designers & Decorators
2. Mantel and 3.Hearth Ideas
I'm pretty set on the cement being the base of the fireplace but the mantel and hearth (the surface in front of and/or on the sides of the firebox) adds an entirely new variable to the fireplace design. A couple things I like are 1. the asymmetrical look is everywhere, lots of modern fireplaces are leaving the hearth longer on one side than the other. 2. I love the idea of having the hearth and mantel in a contrasting color as the fireplace background or even a contrasting material.
by
Somerville General Contractors
4. TV Ideas
The dreaded TV. I hate even talking about how much I despise putting a TV above our fireplace. It will basically ruin any artistic value the cement fireplace might have had (yes, I am allowed to be dramatic about this one). Aesthetically I truly don't want to put it above our fireplace but in this case practicality wins. Having a TV in our living area is practical and since the fireplace will take up most of our wall (yes, we'll only have one usable wall because one is full of windows, one is an open staircase, and the other is open to the kitchen) so it has to be the place for both. Because of this, I found some gorgeous rooms that the TV still would look classy against a cement fireplace. There's even an idea about a hidden TV. Hmmmmm...
by
San Francisco General Contractors
5.Wood Additions
Even though we are using a gas burning fireplaces, I still adore the addition of a wood element to a fireplace as a little natural decoration to incorporate the warmness of wood.